Walt Coburn / Law Rides the Range Signed 1st Edition 1935 Literature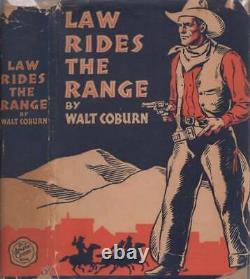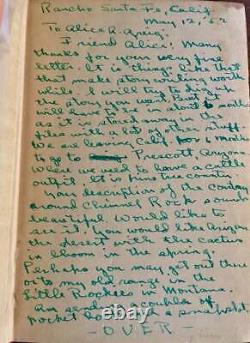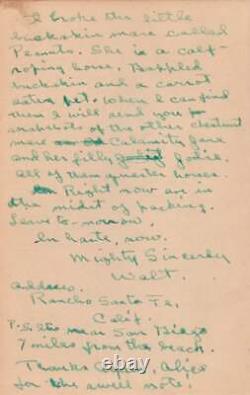 Author: Coburn, Walt Title: Law Rides the Range Publication: New York: D. Appleton and Company, 1935 Edition: First Edition.
Description: Includes 2 page signed author inscription Hardcover. Hardcover with illustrated dust jacket. Jacket is chipped in several spots and is in fair condition only. Light browning to the end papers and hinges.
A personal inscription of 2 pages is written by the author to a friend is located on the right front flyleaf and on the verso of the right front flyleaf. Inscription reads - Rancho Santa Fe, Calif. May 12,'52 To Alice Q. Many thanks for your very fine letter. It is things like that that make story writing worth while.
I will try to dig up the story you want. But it will have to be in about 6 months as it is stored away in the files with a lot of other stuff. For 6 months to go to Prescott, Arizona where we used to have a cattle outfit. It is pine tree country Your description of the country around Chimney Rock sounds beautiful.
Would like to see it. You would like Arizona the desert with the cactus in bloom in the spring. Perhaps you may get out there or to my old range in the Little Rockies in Montana.
Over- [page 2 of inscription] I broke the little buckskin mare called Peanuts. She is a calf-roping horse. Buckskin and a carrot eaten bet.
When I can find them I will send you snapshots of the other chestnut mare Calamity Jane and her filly Jodie. All of them quarter horses.
In haste, now Mighty Sincerely Walt. Address Rancho Santa Fe, Calif.
Its near San Diego 7 miles from the beach. Thanks again Alice for the swell note! Americana Books has been in business since 1993. We are active members of the Antiquarian Booksellers' Association of America (ABAA), Independent Online Booksellers Association (IOBA), the International League of Antiquarian Booksellers (ILAB), and the Georgia Antiquarian Booksellers Association (GABA). We sell books in all fields but specialize in the subject of Americana.
We offer an assortment of books, ephemera and material relating to the exploration and expansion of America, Native Americans, pioneer narratives, personal memoirs and reminiscences, political movements, law, genealogy and local histories, innovations, conflicts, scandals, oppression, inspiration and many other related topics. We hope our customers will share our enthusiasm and passion for history and will enjoy doing business with Americana Books. Dave Hamilton, Americana Books ABAA. All books are guaranteed as described. This listing was created by Bibliopolis.

---