Totemic Invocation Deluxe LE 1/11 Jack Macbeth Qliphoth Grimoire Andrew Chumbley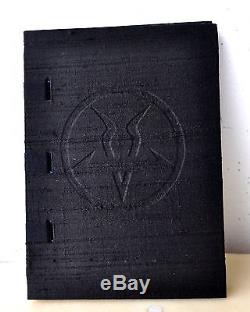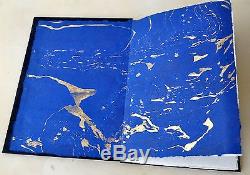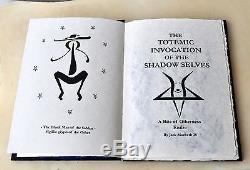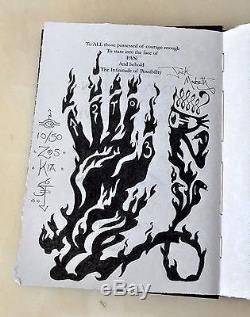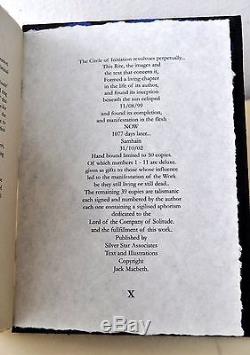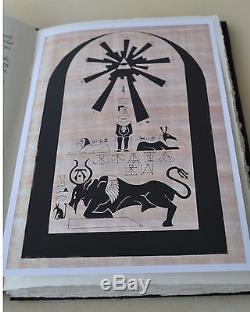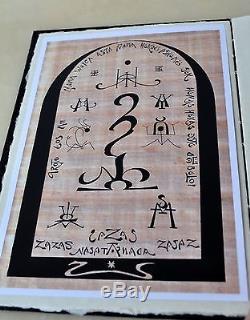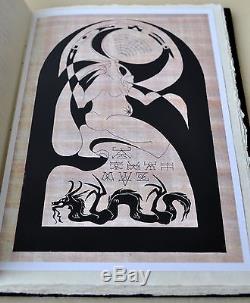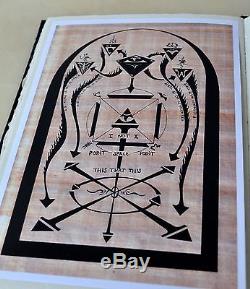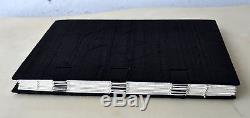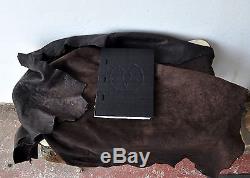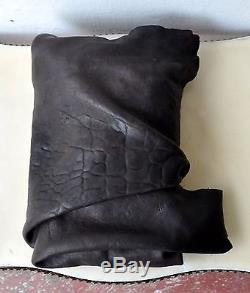 The Totemic Invocation of the Shadow Selves Deluxe LE #10/11 Jack Macbeth Signed Sigilized Qliphoth Grimoire Andrew Chumbley Kenneth Grant Austin Osman Spare Sabbatic Ritual Sorcery UBER RARE!! The Totemic Invocation of The Shadow Selves. A Rite of Otherness Entire.
Silver Star Associates, Samhain 2002. First Edition - Special Deluxe Edition. Signed & sigilized by the Author, with full page artwork, dedicated to Zos Kia.
This is the exceedingly rare deluxe edition of. The Totemic Invocation of The Shadow Selves, A Rite of Otherness Entire. The total print run was limited to 50 hand numbered copies, with the first 11 copies being part of the deluxe edition, and the remaining 39 were the standard copies.
But even the standard copies a pretty special, and talismanic. With the 11 deluxe copies, the moulded boards were covered in black silk, which distinguishes the 11 deluxe copies, from the other 39. Also the endpapers are different, being blue and gold (instead of red and gold), and the artwork is very detailed and substantial, compared to standard copies. The deluxe copies were dedicated and given as gifts to 11 people (be they living, or dead), whose influence led to the manifestation of the Work. This copy was numbered #10, and was titled "Zos Kia", suggesting that this particular copy was a'gift' dedicated to Austin Osman Spare.
It is signed by Jack Macbeth, and has a very substantial & elaborate drawing by him, which is very suggestive of Spare's Zos Kia formula, involving the hand and the eye, and serpent fire - all relating to a formula of sex magick used by Spare. Each copy was hand made, with moulded boards bound in black silk (whereas ivory cloth was used for the standard copies), with Coptic binding used, and each copy was wrapped in a large piece of leather. Jack Macbeth 38, The Totemic Invocation of The Shadow Selves, A Rite of Otherness Entire, Silver Star Associates Star Associates, Samhain 2002. Numbered Limited Edition of 50 copies this being copy number 10. (120pp) Tipped in coloured plates, handsomely hand marbled endpapers featuring tipples of gold, quite variant from other copies.
Moulded boards which is this instance are covered in black silk, a variation from nay other copies. Coptic binding the page signatures being held in place by cloth bands that run over the outer edge of the boards and then disappear into a slot to be fixed under the pastedowns.
The boards are bound in cloth. Each copy is then loosely wrapped in a piece of leather which is, in fact, the usable portion of a whole calfs hide. This copy is signed and numbered by the author with a hand drawn illustration entitled Zos Kia.
Inspired by the work of Carlos Casteneda, Andrew Chumbley, Kenneth Grant and Austin Osman Spare this work describes and is the manifestation of a Rite of Sorcery that is enacted over 5 nights. It involves shape shifting and beyond that the invocation of the Black Man of the Sabbat which is an icon for the Other ie That-Which-Is-Not-I, the Shadow Self or the Negative-I. The intent is to touch real Gnosis. The author notes that there is no single text book on the art of sorcery, it is re-invented by each sorcerer regardless of the prior work of others. It is a living system developed and manipulated perpetually to aid the will and desires of the individual This is exactly what he succeeds in doing with this work.
This is one of the best grimoires around, certainly of those written & published in the last 25 years. It is up there with the very best, like. ONE: Grimoire of the Golden Toad, Azoetia, Viridarium Umbris, Liber Niger Legionis, Liber Falxifer 1 & 2. The Dragon Book of Essex. An absolute must have, for anyone who collects beautifully produced grimoires - which don't only look good, but are also filled with magickal substance, and provide keys for doing real magickal work! Don't miss out on this very rare, and very sought after grimoire, which records the "Rite of Otherness Entire", providing the text of the ritual, that is to be enacted over 5 nights. This is one of 11 of the deluxe edition - which almost never turn up for sale.
PS: T he fact that this is one of the deluxe edition copies, which were limited to 11, and only made privately available, makes it exceedingly rare, and valuable. Like a rare stamp or coin, you may have to pay several million dollars, to have it in your collection, but its value will continue to appreciate. The same applies to books like this, and the fact is, there are numerous books that change hands for millions of dollars - because like this one, they are incredibly rare, or have a special association.
So to those busy-bodies out there, who like to harp on about'crazy prices' and'book-scalping' and all the rest of it - I have no time for you, or your comments! Dull and ignorant people, will never fully appreciate the value of rare and beautiful objects - so this is not for you! As for the real collectors out there and. Magicians might I add, looking for a solid future investment, this is a very rare opportunity, to acquire something truly special and unique, which will continue to increase in value, as long as any of us are alive, and will continue to do so, after we have left this mortal coil.
This is more than just a rare book - this beautifully bound, talismanic grimoire, represents a legacy, and an heirloom, that can be passed down from generation to generation. Check out my other items, as I have the standard edition of Totemic Invocation available and currently listed, and many other rare & important grimoires & occult titles. Be sure to add me to your favourites list.
As I will be listing many other Rare & hard-to-find books, artworks and many other items of interest. The item "Totemic Invocation Deluxe LE 1/11 Jack Macbeth Qliphoth Grimoire Andrew Chumbley" is in sale since Tuesday, April 21, 2015.
This item is in the category "Books\Antiquarian & Collectible". The seller is "reix718" and is located in Belfield, NSW. This item can be shipped worldwide.
Binding: Fine Coptic Binding
Subject: Religion & Spirituality
Topic: Occult
Special Attributes: Loosely wrapped in a larger piece of leather
Year Printed: 2002
Author: Jack Macbeth
Illustrator: Jack Macbeth
Language: English
Publisher: Silver Star Associates

---