SIGNED MARCEL BREUER BUILDINGS AND PROJECTS 1921-1961 HARDCOVER withDUSTJACKET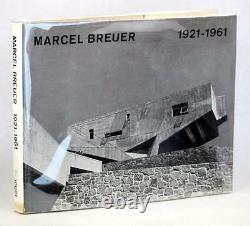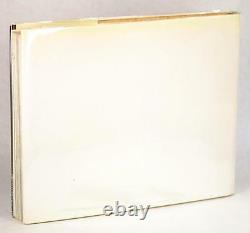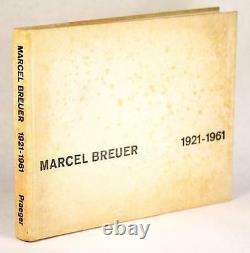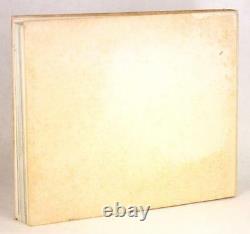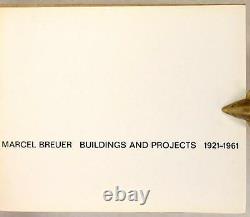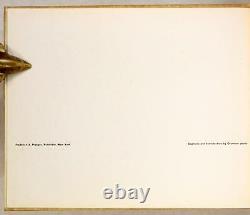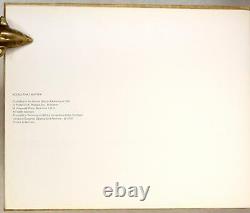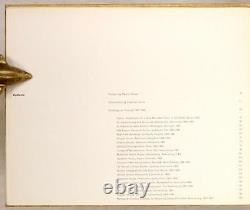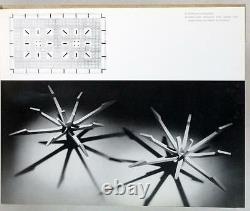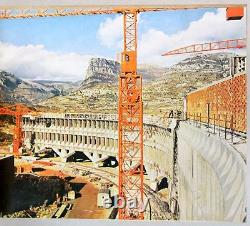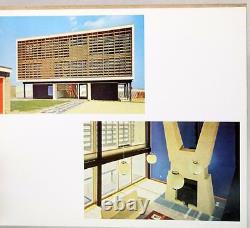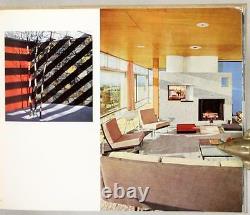 Illustrated with Color / Black and White Plates. Signed by Marcel Breuer on the the FFEP. DJ has shelfwear present (DJ rubbed, light shelfwear to the extremities) present to the DJ. Boards are foxed and lightly soiled.
Text is clean and free of marks, binding tight and solid. Marcel Lajos Breuer (22 May 1902 1 July 1981), was a Hungarian-born modernist, architect and furniture designer.
One of the masters of Modernism, Breuer extended the sculptural vocabulary he had developed in the carpentry shop at the Bauhaus into a personal architecture that made him one of the world's most popular architects at the peak of 20th-Century design. Up For Sale Today is.
Illustrated with Color & Black and White Plates. Known to his friends and associates as Lajkó (the diminutive of his middle name and pronounced Lye-ko), Breuer left his hometown at the age of 18 in search of artistic training and was one of the first and youngest students at the Bauhaus a radical arts and crafts school that Walter Gropius had founded in Weimar just after the first World War. He was recognized by Gropius as a significant talent and was quickly put at the head of the Carpentry Shop. Gropius was to remain a lifelong mentor for a man who was 19 years his junior. He was known to such giants as Le Corbusier and Mies van der Rohe, whose architectural vocabulary he was later to adapt as part of his own, but hardly considered an equal by them who were his senior by 15 and 16 years.
Despite the widespread popular belief that one of the most famous of Breuer's tubular steel chairs, the Wassily Chair was designed for Wassily Kandinsky, it was not; Kandinsky admired Breuer's finished chair design, and only then did Breuer make an additional copy for Kandinsky's use in his home. It was Gropius who assigned Breuer interiors at the 1927 Weissenhofsiedlung and led him to his first house assignment for the Harnischmachers in Wiesbaden in 1932. Sigfried Giedion extended their furniture collaboration at the Wohnbedarf in Zurich to include a furniture showroom and the great Dolderthal apartments just outside town.
In 1936, at Gropius's suggestion, Breuer relocated to London. Breuer's departure from then Nazi Germany has led some scholars to lump him with the group of Jewish architects and artists who fled the country at that time.
Although Breuer's parents were Jewish, it was only in 1981 that Christopher Wilk, preparing his Interiors book for MoMA, found his formal renunciation of the Jewish faith before the Chief Rabbi of Frankfurt in the Breuer archives at Syracuse. While in London, Breuer was employed by Jack Pritchard at the Isokon company; one of the earliest proponents of modern design in the United Kingdom.
Breuer designed his Long Chair as well as experimenting with bent and formed plywood. Between 1935 and 1937 he worked in practice with the English Modernist F. Yorke with whom he designed a number of houses.
In 1937, Gropius accepted the appointment as chairman of Harvard's Graduate School of Design and again Breuer followed his mentor to join the faculty in Cambridge, Massachusetts. The two men formed a partnership that was to greatly influence the establishment of an American way of designing modern houses spread by their great collection of wartime students including Paul Rudolph, Eliot Noyes, I. Pei, Ulrich Franzen, John Johansen, and Philip Johnson. One of the most intact examples of Breuer's furniture and interior design work during this period is the Frank House in Pittsburgh, designed with Gropius as a Gesamtkunstwerk. Breuer broke with his father-figure, Walter Gropius, in 1941 over a very minor issue but the major reason may have been to get himself out from under the better-known name that dominated their practice.
Breuer had married their secretary, Constance Crocker Leighton, and after a few more years in Cambridge, moved down to New York City (with Harry Seidler as his chief draftsman) to establish a practice that was centered there for the rest of his life. The Geller House I of 1945 is one of the first to employ Breuer's concept of the'binuclear' house, with separate wings for the bedrooms and for the living / dining / kitchen area, separated by an entry hall, and with the distinctive'butterfly' roof (two opposing roof surfaces sloping towards the middle, centrally drained) that became part of the popular modernist style vocabulary. Breuer built two houses for himself in New Canaan, Connecticut: one from 1947 to 1948, and the other from 1951 to 1952. A demonstration house set up in the MoMA garden in 1949 caused a flurry of interest in the architect's work, and an appreciation written by Peter Blake.
When the show was over, the "House in the Garden" was dismantled and barged up the Hudson River for reassembly on the Rockefeller property in Pocantico Hills near Sleepy Hollow. His first two important institutional buildings were the UNESCO Headquarters in Paris finished in 1955 and the monastic Master Plan and Church at St John's Abbey in Minnesota in 1954 again, in part, on the recommendation of Gropius, a "competitor" for the job, who told the monks they needed a younger man who could finish the job. These commissions were a turning point in Breuer's career: a move to larger projects after years of residential commissions and the beginning of Breuer's adoption of concrete as his primary medium. Breuer designed the Washington, D.
Headquarters building for the U. Department of Housing and Urban Development which was completed in 1968. While the building received some initial praise, in recent decades it has received widespread criticism. Former Secretary of Housing and Urban Development Jack Kemp once described the building as 10 floors of basement. " Another former Secretary, Shaun Donovan, has noted that "the building itself is among the most reviled in all of Washingtonand with good reason. Many critics have argued that Breuer's design is unoriginal, and essentially mimics the UNESCO Headquarters and IBM Research Center which he designed several years earlier. Throughout the almost 30 years and nearly 100 buildings that followed, Breuer worked with a number of partners and associates with whom he openly and insistently shared design credit: Pier Luigi Nervi at UNESCO; Herbert Beckhard, Robert Gatje, Hamilton Smith and Tician Papachristou in New York, Mario Jossa and Harry Seidler in Paris. Their contribution to his life work has largely been credited properly, though the critics and public rightly recognized a "Breuer Building" when they saw one.
Breuer's architectural vocabulary moved through at least four recognizable phases: The white box and glass school of the International style that he adapted for his early houses in Europe and the USA: the Harnischmacher House, Gropius House, Frank House, and his own first house in Lincoln, Massachusetts. The punctured wooden walls that characterized his famous 1948 "House in the Garden" for MoMA and a series of relatively modest houses for knowledgeable university faculty families in the 50s. This included the first of his houses in New Canaan, Connecticut, with its balcony hung off a cantilever. The modular prefabricated concrete panel façades that first enclosed his favorite IBM Laboratory in La Gaude, France and went on to be used in many of his institutional buildings plus the whole town at Flaine. Some critics spoke of repetitiveness but Breuer quoted a professional friend: I cant design a whole new system every Monday morning.
The stone and shaped concrete that he used for unique and memorable commissions: his best-known project, the Whitney Museum of American Art, the Muskegon and St John's Abbey Churches, the Atlanta Public Library, and his second house in New Canaan. Breuer was awarded the Gold Medal of the American Institute of Architects at their 100th annual convention in 1968 at Portland, Oregon. In an ironic timing of events, it coincided with general criticism of one of America's favorite architects for his willingness to design a multi-story office building on top of Grand Central Station. The project was never built.
It cost him many friends and supporters although its defeat by the US Supreme Court established the right of New York and other cities to protect their landmarks. During his lifetime, Breuer rarely acknowledged the influence of other architects work upon his own but he had certainly picked up the use of rough board-formed concrete from Le Corbusier and the noble dignity of his second New Canaan house seems to have directly descended from Mies Barcelona Pavilion.
Shortly before his death, he told an interviewer that he considered his principal contribution to have been the adaptation of the work of older architects to the needs of modern society. He died in his apartment in Manhattan in 1981, leaving his wife Connie, son Tom, and daughter Cesca.
His partners kept offices going in his name and with his permission in Paris and New York for several years but, with their eventual retirement, each is now closed. OUR MISSION STATEMENT: Our goal is to provide the best books for the lowest prices.
Thank you for visiting this listing and we hope to see you again soon! Book formats and corresponding sizes. Approximate cover size (width × height).
ALL ITEMS ARE DESCRIBED TO THE BEST OF MY ABILITY! IF THE DESCRIPTION AND THE PHOTOS DO NOT MATCH THE PHOTOS TAKE PRECEDENCE! ALL ITEMS ARE PACKED IN A WATERPROOF CUSTOM FITTED BAG, WRAPPED IN 2 LAYERS OF BUBBLE WRAP AND THEN PLACED INTO A CUSTOM FITTED CARDBOARD MAILER.
IF YOU DO WIN MULTIPLE ITEMS, PLEASE DO NOT PAY FOR THEM INDIVIDUALLY! PLEASE WAIT FOR THE INVOICE! WE WILL TRY TO PUT UP NEW AUCTIONS EVERY DAY! Show off your items with Auctiva's Listing Templates.
The item "SIGNED MARCEL BREUER BUILDINGS AND PROJECTS 1921-1961 HARDCOVER withDUSTJACKET" is in sale since Saturday, March 25, 2017. This item is in the category "Books\Antiquarian & Collectible". The seller is "lastexitbooks" and is located in Charlottesville, Virginia. This item can be shipped worldwide.
Subject: Art & Photography
Topic: Architecture; Marcel Breuer
Original/Facsimile: Original
Binding: Hardcover
Special Attributes: 1st Edition
Publisher: Frederick Praeger
Place of Publication: New York
Year Printed: 1962
Author: Cranston Jones
Region: North America
Language: English
Country/Region of Manufacture: United States
Character Family: International Style

---