SIGNED Helen Levitt Slide Show The Color Photographs Of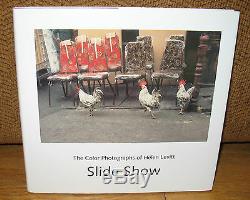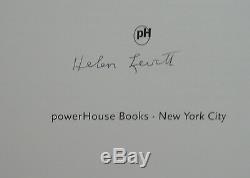 Slide Show The Color Photographs of Helen Levitt. Clothbound in photo-illustrated dust jacket.
Very good plus in a very good plus dust jacket. From "Helen Levitt: New York Streets 1938 to 1990s" by Jim Casper, Lenswork, 2007 Levitt was a pioneer of color photography, starting seriously in 1959, when she received a Guggenheim grant to explore her familiar territory, but shifting from black-and-white to color. Her grant was renewed for a second year in 1960, and she recorded hundreds of color images in these intense two years. Unfortunately, we will probably never see any of those photographs. A discreet burglar broke into her apartment in 1970, and stole almost all of her color transparencies and prints and not much else. Undaunted, Levitt went back out into the streets in the 70s with her camera to start all over again. These are the color photographs we can see today (plus a handful of images from 1959-60 which survived). Forty of these color photos were shown as a slide show at the New York Museum of Modern Art in 1974 one of the first times photographs were formally displayed this way in a museum, and one of the first exhibitions of serious color photography anywhere in the world. That show was presented 31 years after her first solo exhibition at MoMA in 1943. Her work was also part of the famous Family of Man exhibition. Dust jacket is complete with minor wear. Often squalid and always unsentimental, but full of wonder and sly humor, photographer Levitt's New York City is both familiar and startling, never more so than in these color photos from the early 1970s. The book also includes a handful of prints from 19591960. Levitt's city on a summer afternoon, the time of day when most of these photos were taken, is as full of oddities as the ocean floor. In one striking shot, a tiny girl crouches awkwardly by the curb like a little crab, her delicate knees and elbows askew. Levitt seems to regard the human body as a fascinating bit of found sculpture. She captures a man's belly sagging in counterpoint to a crumpled car fender, a beggar's folds of fat hanging down like the fabric of his rag bags and the brutal contrast between an old, bent-over couple and the gleaming hoods of a pair of sport cars.
Old age and poverty are on extensive display, but the effect is never grim. Levittwho still lives and works in New Yorknever lets the pathetic and dirty overshadow the pure pleasure of seeing without flinching. At least a dozen of Helen Levitts photographs seem to me as beautiful, perceptive, satisfying, and enduring as any lyrical work that I know. In their general quality and coherence, moreover, the photographs as a whole body, as a book, seem to me to combine into a unified view of the world, an uninsistent but irrefutable manifesto of a way of seeing, and in a gently and wholly unpretentious way, a major poetic work.
(James Agee) World-renowned for her iconic black-and-white street photographs, New York Citys visual poet laureate Helen Levitt also possesses a little-known archive of color work, which has been collected for the first time in Slide Show, her third powerHouse Books monograph. In 1959, and again in 1960, Helen Levitt received grants from the Guggenheim Foundation to photograph in color on the streets of New York, where she had photographed two decades earlier in black-and-white. But tragically, the best of these pioneering color pictures were stolen from her apartment in 1970 and she had to start over again. In 1974 the new work was shown as a continuous slide projection at New Yorks Museum of Modern Artan early example of a slide show presentation by a museum and one of the first exhibitions of serious color photography anywhere in the world.
Slide Show presents more than one hundred photographsincluding eight surviving images from the 195960 seriesmore than half of which have never been exhibited or published before. This impressive monograph is a worthy successor to her magnum opus, Crosstown (powerHouse, 2001), which included the largest collection of her color pictures to date, and to her more intimate volume of black-and-white work, Here and There (powerHouse, 2004), which presented more than eighty "unknown" Levitts taken over six decades.
The item "SIGNED Helen Levitt Slide Show The Color Photographs Of" is in sale since Friday, November 5, 2010. This item is in the category "Books\Antiquarian & Collectible". The seller is "hmxa15a" and is located in Island Park, New York. This item can be shipped worldwide.
Binding: Hardcover w/Jacket
Subject: Art & Photography
Topic: Photography: Monographs
Special Attributes: 1st Edition
Origin: American
Printing Year: 2005
3rd Level Category: Monographs

---