Raymond E. Feist. MAGICIAN. Doubleday, 1982. 1st HC/DJ. Signed! Very Scarce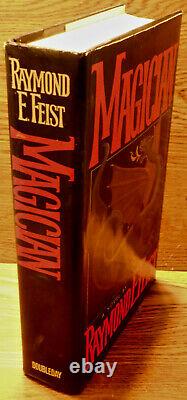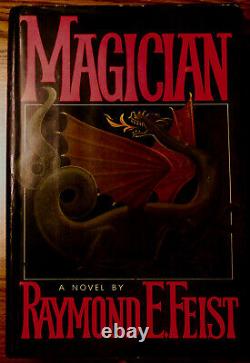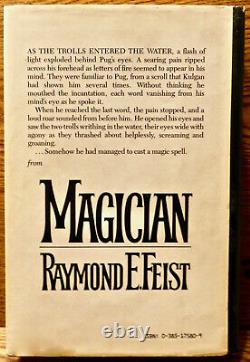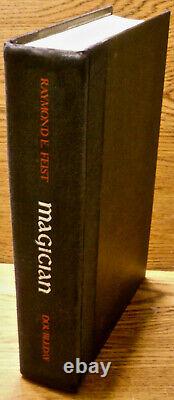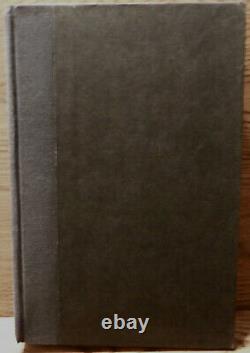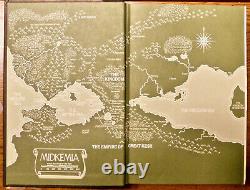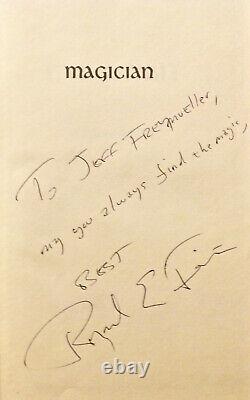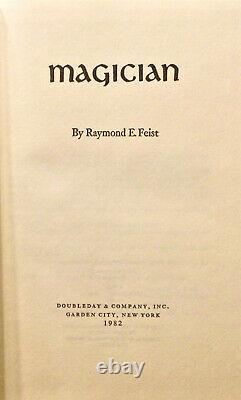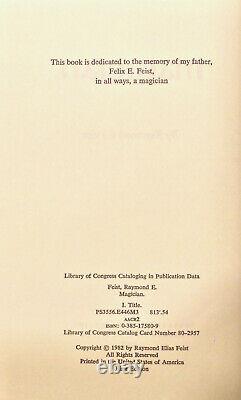 New York, NY: Doubleday, 1982. Signed in full by Raymond Feist on the half-title page.
This is NOT a book club book. This is NOT an ex-library book.
This is the real deal: the true 1st edition, 1st printing. SCROLL DOWN THIS PAGE IMMEDIATELY TO SEE THE CONDITION OF THIS BOOK AND THIS DUST JACKET. Feist was born in 1945 in Los Angeles and was raised in Southern California. When his mother remarried, he took the surname of his adoptive stepfather, Felix E.
He graduated with a B. In Communications Arts with Honors in 1977 from the University of California at San Diego.
During that year Feist had some ideas for a novel abut a boy who would be a magician. He wrote the novel MAGICIAN two years later and it was published by Doubleday in 1982. Feist is the author of such great and famous books as MAGICIAN (Feistss 1st book; offered here) , SILVERTHORN, DARKNESS AT SETHANON, DAUGHTER OF THE EMPIRE, SERVANT OF THE EMPIRE, MISTRESS OF THE EMPIRE, PRINCE OF THE BLOOD, THE KINGS BUCCANEER, SHADOW OF A DARK QUEEN, RISE OF A MERCHANT PRICE, RAGE OF A DEMON KING, SHARDS OF A BROKEN CROWN, KRONDOR: THE BETRAYAL, KRONDOR: THE ASSASSINS, KRONDOR: TEAR OF THE GODS, JIMMY AND THE CRAWLER, HONOURED ENEMY, MURDER IN LAMUT, JIMMY THE HAND, and a number of others. The following is a list of some of the awards and award nominations that Raymond E. Feist has been honored with: 1983: MAGICIAN.
Locus Award nominee for Best First Novel. Locus Award nominee for Best Fantasy Novel. 1987: A DARKNESS AT SETHANON. 1988: DAUGHTER OF THE EMPIRE.
Locus Award 3rd-place winner for Best Horror Novel. 1991: SERVANT OF THE EMPIRE. HOMer Award winner for Best Fantasy Novel.
1995: SHADOW OF A DARK QUEEN. Feist is one of the best, most important, most famous, and most collectible fantasy fiction writers of all time. In this remarkable novel, Raymond E.
Feist has created an entire world, a richly imagined medieval realm of princes and priests, soldiers and soothsayers. The story begins at Crydee, a frontier outpost in the tranquil Kingdom of the Isles, where a humble orphan boy, Pug, is apprenticed to a master magician.
And the destinies of two worlds are changed forever. Before long, the apprentices emerging powers have produced two miracles and won Pug a Dukes favor and a Princesss heart. Suddenly the peace of Pugs homeland is destroyed as mysterious alien invaders swarm through the kingdom, and Pug is chosen for the coming conflict. But for Pug and his warrior friend, Tomas, a destiny of other worldly, mind-expanding adventures into the unknown has only just begun.
To Tomas will come a legacy of savage power from an ancient civilization. Put is to be thrust into the strangest adventure of all: he will be snatched through a rift in space, taken prisoner, and granted the unimaginable powers of a strange and new magic. Finally the destiny of two worlds will be placed in his youthful hands. In the tradition of J. White, MAGICIAN is a memorable feat of imagination, an epic tale of fantasy and science fiction, and a provocative allegory of the modern world.
From the rear panel of the dust jacket. AS THE TROLLS ENTERED THE WATER , a flash of light exploded behind Pugs eyes.
A searing pain ripped across his forehead as letters of fire seemed to appear in his mind. They were familiar to Pug, from a scroll that Kulgan mouthed the incantation, each word vanishing from his minds eye as he spoke it. When he reached the last word, the pain stopped, and a loud roar sounded from before him. He opened his eyes and saw the two trolls writhing in the water, their eyes wide with agony as they thrashed about helplessly, screaming and groaning. Somehow he had managed to cast a magic spell. Ex-library books must be noted as such since generally they are of little value to the collector of 1st editions. Condition is also very important to those collectors. Books and dust jackets must be described in detail. Mistakes can be made (and corrected), of course, but if you DON'T KNOW, don't try to sell a book as a 1st edition. An ABOUT FINE book in a NEAR FINE (or better) dust jacket. The book is tight and square in its black quarter-cloth and black boards binding with gilt lettering on the spine of the book. The book has the correct map of Midkemia endpapers. There is no writing in the book; no bookplates; no remainder marks. There are no chips or tears to the dust jacket. There is hint of a wrinkle at the upper portion of the spine of the jacket and there is a hint of a wrinkle at the lower left of the rear panel of the jacket; both wrinkles are largely unobtrusive. There is a hint of tanning to the rear panel of the dust jacket, but much less than is usually encountered. The dust jacket has undergone some minor archival restoration (mainly at the edges of the head and heel of the spine panel) that has been accomplished by a professional paper conservationist. The restoration is virtually invisible when looking at the dust jacket from the outside.
This one of the nicest 1st edition copies of MAGICIAN that is currently being offered for sale anywhere on the Internet. The famous and iconic dust jacket artwork is by David Gatti. A MUST FOR THE COLLECTOR OF HISTORICALLY IMPORTANT FANTASY 1st EDITIONS AND/OR THE COLLECTOR OF THE RIFTWAR SAGA 1st EDITIONS AND/OR THE COLLECTOR OF RAYMOND E. FEIST 1st EDITIONS (ESPECIALLY SIGNED COPIES)!
Furthermore, however, for certain scarce books in great condition, I do expect to get close to what they're worth. Stay with me; I always have a number of important, collectible, cornerstone science fiction, fantasy, and horror 1st editions listed. All items are being offered for sale elsewhere; I reserve the right to end this listing early if this item sells elsewhere. I would like to round out this set by acquiring the #2/500 copy of ANCILLARY SWORD.
Buyers who wish to have packages sent to addresses outside of the U. I specialize in science fiction, fantasy, and horror 1st editions: award winners, cornerstone books, and generally recognized important books in the genre(s).
I GUARANTEE THE CONDITION OF THIS BOOK; IF YOU DON'T LIKE IT, SEND IT BACK! I stand behind all of my items FULLY. OTIUM SINE LITTERIS MORS EST ET HOMINIS VIVI SEPULTURA. Very Scarce" is in sale since Sunday, January 12, 2020. This item is in the category "Books\Fiction & Literature". The seller is "dna-books" and is located in Lincoln, Nebraska. This item can be shipped worldwide.
Modified Item: No
Format: Hardcover
Author: Raymond E. Feist
Publication Year: 1982
Language: English
Genre: Fantasy
Special Attributes: 1st Edition

---