Rare and important ROBERT BURNS FIRST EDITION, ex libris ALASDAIR GRAY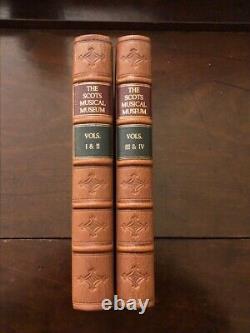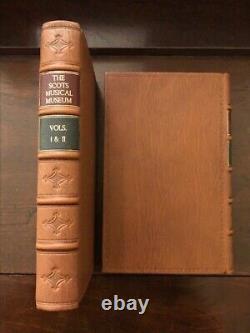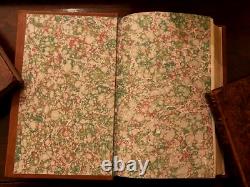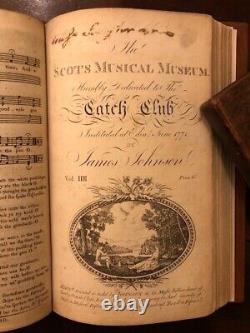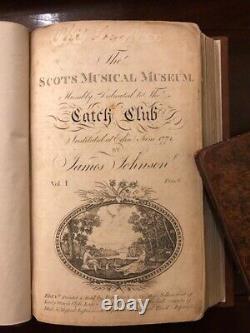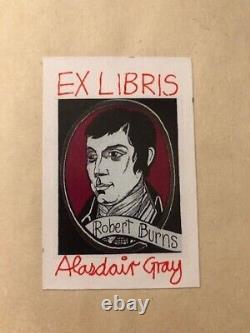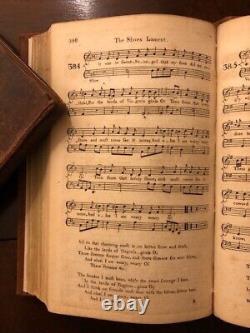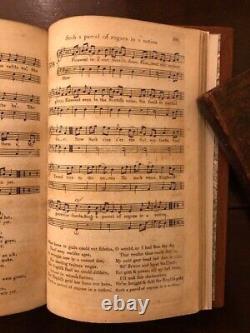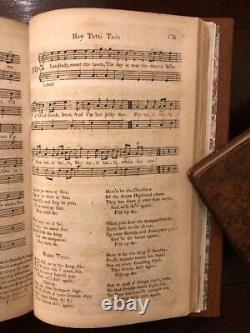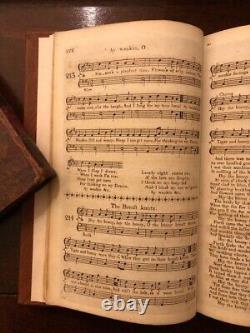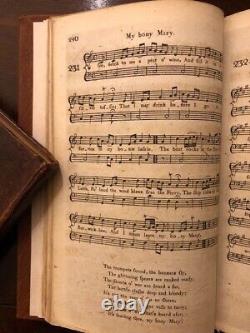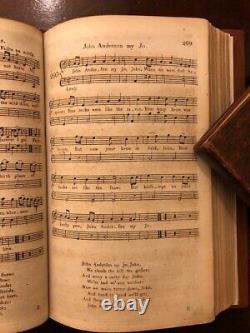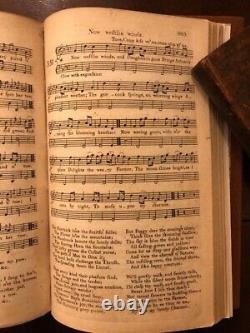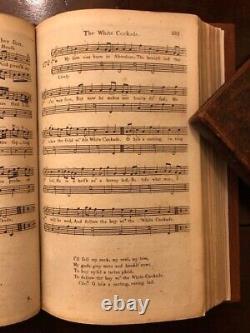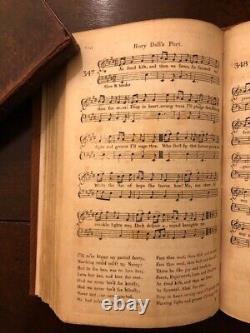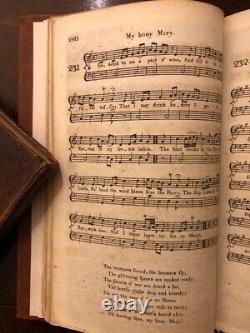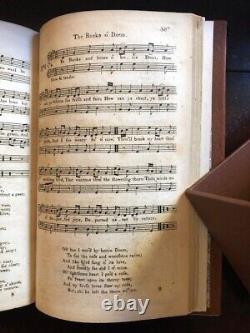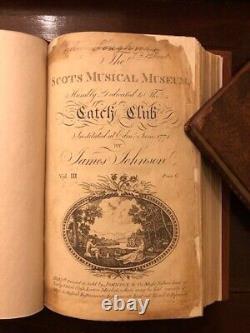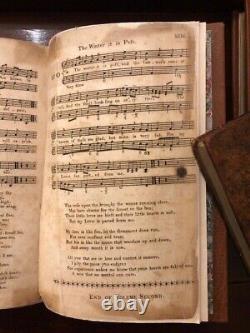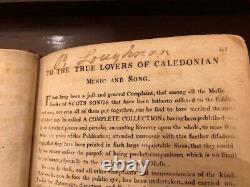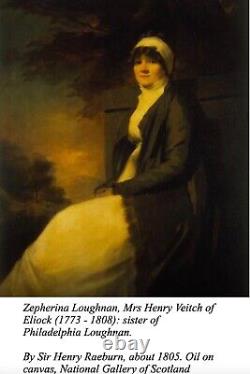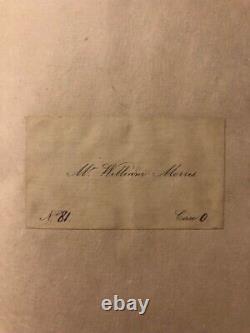 The Scots Musical Museum: A rare and important ROBERT BURNS FIRST EDITION ex libris ALASDAIR GRAY. The Scots Musical Museum Humbly dedicated to the Catch Club instituted at Edinr. June 1771, by James Johnson.
Vols 1 to 4 bound in two vols, circa 1792 - 1796. 8vo (218 x 132 mm), engraved throughout.
Title page vignettes second state, with thistles. This title page imprint first appeared on vol IV, published in 1792, and then again on vol V, published in 1796.
As each of the title pages on this vol I - IV set bears this imprint these books likely date to between 1792 and 1796. Rebound in 2018 in Glasgow by craft bookbinder Downie Allison Downie, in blind stamped morocco leather with hand made marbled paper paste downs/end papers. The book is protected in a buckram slip case. Rice paper repairs to title page and two other pages of vol 2. Otherwise the pages are in good order, with all present and in acceptable condition. Foxing and yellowing in places. Please inspect the photographs carefully regarding condition. Ex Libris Alasdair Gray (see autographed bookplates). These books connect in a single physical object the greatest Scottish literary figure of the 18th century with (arguably) the greatest Scottish literary figure of the 20th/21st centuries: Robert Burns (1756 - 1796) and Alasdair Gray (1934 - 2019). Alasdair Gray was described in a New Yorker Magazine article as'the grand old man of the the Scottish literary Renaissance' (of the late 20th/21st century). He published about 40 titles during his lifetime, including the novel Lanark, which the Guardian listed as one of the 100 most important novels of the 20th century. The feature film Poor Things, directed by Yorgos Lanthimos and starring Emma Stone and Willem Dafoe, and to be released in 2023, is based upon Gray's 1992 novel of the same name. The Alasdair Gray bookplates to the front of both volumes incorporate Gray's own portrait of Burns as used on the spine of his Book of Prefaces (published in 2002). Both are signed by Gray in ball point pen. These books belonged originally to Miss Philadelphia Loughnan b. One of four daughters of Thomas Loughnan, a Scottish merchant who traded to Madeira.
Miss Loughnan' or'Miss Phil. Loughnan' is inscribed in ink on title pages or fly leaves of each volume, these signatures unsuccessfully erased by a later owner.
Philadelphia's sister Zepherina was painted by Sir Henry Raeburn in about 1805 (see image). Subsequent owners included William Morris (book label) and'T. About the Scots Musical Museum. I see every day a new musical publication advertised; but what are they?
Gaudy hunted butterflies of a day, and then vanish forever: but your work will outlive the momentary neglect of idle fashion, and defy the teeth of time. Robert Burns in a letter to James Johnson, November 1788. Robert Burns, known throughout the world as simply'Rabbie', or'the Bard', is mainly associated by bibliophiles with his first book of poetry, Poems Chiefly in the Scottish Dialect. According to the 2017 publication by Young and Scott, The Kilmarnock Burns: A Census there are 84 known copies of this famous edition still extant, of which only twelve are in private hands. Poems Chiefly in the Scottish Dialect was the making of Robert Burns, who moved to Edinburgh shortly after the book published, and was quickly lionised as the'heav'n taught ploughman' by the city's (Scottish Enlightenment) literary establishment and high society.
The publisher William Creech arranged with Burns to republish the book, first as a (second) Edinburgh edition, and then later, because he couldn't shift all of the books in Edinburgh, as a third, so named, London edition. Creech printed 3000 copies of Poems Chiefly in the Scottish Dialect for these two editions.
Burns continued to compose poetry for the remainder of his short life (he died in 1796, aged 36), Tam O' Shanter as an example; but an encounter with the Edinburgh engraver and music publisher James Johnson in 1787 radically shifted his focus from poetry to writing and collecting songs. Burns set out to help Johnson with his'musical museum' by collecting and arranging Scotland's'ancient national airs' and also writing new songs for The Scots Musical Museum (SMM). The first volume of six published in 1787, and included only three Burns songs, Green Grow the Rashes O was one of these. In the volumes that followed in 1788 (vol 2) 1790 (vol 3) and 1792 (vol 4) Burns became in effect the chief editor of the work as well as the major contributor. He has been credited with composing 200 of the 600 songs in vols I - VI of the completed SMM; although recent scholarship has revised this to 150 songs while bringing Burns' song collecting and editorial contributions into sharper relief. It is generally believed that Burns also wrote the prefaces to vols II - IV. In 1792 Burns was commissioned by George Thompson to contribute songs to his A Select Collection of Original Scottish Airs for the Voice. His work for Thompson slowed the pace of Burns' contributions to Johnson's SMM, which may be the reason why vol V of the work wasn't published until after Burns' death, in 1796, making for a four year hiatus between the publication of the fourth and fifth volumes.
A concluding volume (VI) completed the collection in 1803. A survey of copies in Scottish research libraries suggests that vols I - IV together, (either bound in two, as I - II and III - IV, or bound together as I - IV) comprise a'first, first edition set'. During the hiatus between the publications of IV (in 1792) and V (in 1796) the SMM became both popular and successful, largely because of Burns' known participation and growing reputation.
Thus there is a discernible pattern among surviving Catch Club copies of finding vols I - IV bound'sets' with the'JOHNSON & Co' imprint (as these), often supplemented by volumes V and VI from Stenhouse's 1838 reprint (the National Library of Scotland's Glen collection SMM vols I - VI as an example). SMM vols I - IV as a first, first edition set will have been bought in the 1790s by genteel folk to take to convivial musical evenings. Burns and Johnson conceived of these books as'pocket books', practical books of music to be carried from place to place.
This will account for the frequently worn and damaged condition of pages and bindings; and indeed, many most? Library copies have had the original bindings stripped off and replaced with 20th century buckram. According to professor Murray Pittock, editor of the Oxford University Press edition of the SMM (published in 2018), pages were frequently torn from these books to be placed upon pianos during singalongs. Hence many surviving copies are fragmentary, for example the copy in the Edinburgh University library. When volume VI published in 1803, Johnson considered the work finished.
He republished the six volumes as a complete set, marking the occasion by engraving a new set of title pages dedicating his opus to the'Society of Antiquaries of Scotland'. This 1803 second edition of the SMM is also a rarity. James Johnson was not an ordinary publisher and the SMM was not conventionally printed. While books are usually printed using movable type the SMM was printed on engraved pewter plates: music, text and title page illustrations (Johnson used pewter instead of the more usual copper plates as a cost saving measure). This unconventional approach is evident throughout the book, for example in the grey shadows surrounding text blocks; and also in occasional faintness of the text (especially page numbers), which resulted from Johnson's hand operated press not impressing the soft metal plates onto the paper with sufficient force.
SMM Catch Club first editions, even singleton volumes, are extremely rare. Not as rare as the Kilmarnock Burns but possibly a close runner up.
Of globally important research libraries, few have full sets of the Catch Club SMM: The British Library, the National Library of Wales and the Bodleian each have full sets (vols I - VI). Glasgow University's celebrated William Hunter Library has volumes I and III only (the spine to vol I is split so the book is in two pieces, and vol III is rebound in later cloth); Edinburgh University Library has a first, first edition set (vols I - IV with the JOHNSON & Co imprint, all severely damaged with many pages missing); and the Beinecke Rare Book Room at Yale has vols I - IV.
The National Library of Scotland has a second edition,'Antiquaries' set (vols I - VI), a first, first edition set (vols I to IV with the JOHNSON & Co imprint) and a couple of singleton volumes. Smith collection of Burnsiana in Washington DC has been billed as one of the most complete collections of Burns material in existence (Andrew Carnegie helped Smith to amass it); but it doesn't contain a first edition of the SMM. Contrast the rarity of the Catch Club SMM with Poems Chiefly in the Scottish Dialect in the second (Edinburgh) and third (London) editions of 1787. At the time of this writing there are twenty of these for sale on Abebooks alone!
James Johnson is usually described as a'struggling' Edinburgh music publisher. Compiling The Scots Musical Museum was James Johnson's life long passion. He set out to comprehensively collect'our ancient national airs in their true simplicity and unincumbered with useless accompaniments and graces' before these songs, mostly in Scots, vanished from memory and were lost forever. It was Johnson's great good fortune to meet Burns just as he was launching the project, an enterprise that both men clearly considered to be of national importance. Professor Murray Pittock has described these books as a'canonical collection' of Scotland's native songs. It is one of the great paradoxes of modern culture. The poems and songs of Robert Burns have been carried in the minds and mortal memories of innumerable individuals all over the world, recited, sung, performed with energy, insight and enthusiasm and given pleasure to thousands, perhaps millions of people. But of course, that is exactly what they are.
They were not mass-manufactured and are worth studying as artefacts as well as for what they carry and contain. Holding one and turning its pages must be like examining the multifaceted jewels in a royal crown.
The liabilities of pomp, circumstance and the protection of private property attach to the former as much, it sometimes seems, as to the latter. More so: books often have an aura that jewellery does not. Alan Riach, Professor of Scottish Literature at Glasgow University.
Some Robert Burns Songs first published in the SMM vols I - IV. Green Grow the Rashes O. Said to have been sung by Robert Bruce's soldiers at Bannockburn, it was later adapted by the German Romantic composer Max Bruch for inclusion in his Scottish Fantasy in E-flat major, Op 46 (1880). Burns does not take authorial credit for this song; and the second version of the lyrics,'Here is to the King, Sir' (see photograph) is a Jacobite toast Burns composed and proposed in Edinburgh, a politically dangerous move.
He later set Scots Wha Hae to this same tune. When Guilford good our Pilot stood. [In support of the American revolutionary war]. Such a Parcel o' Rogues in a Nation.
Up in the Morning Early. The Winter it is Past. For a' that and a' that. My Heart's in the Highlands. My bony Mary (The Silver Tassie).
Ae Fond Kiss [Titled:'Rory Dall's Port']. What can a Young Lassie. The Deil's awa wi' the Exciseman. This item is in the category "Books, Comics & Magazines\Antiquarian & Collectable". The seller is "heartoftheworld99_8" and is located in this country: GB.
This item can be shipped to United Kingdom, Canada, Japan.
Special Attributes: 1st Edition, Association
Modified Item: Yes
Illustrator: Robert Burns
Year Printed: 1796
Region: Europe
Country/Region of Manufacture: United Kingdom
Personalised: No
Binding: Leather
Original/Facsimile: Original
Place of Publication: Edinburgh
Weight: 1 kilo
Modification Description: Rebound
Language: English
Non-Fiction Subject: Music
Author: Robert Burns
Signed: Yes
Fiction Subject: Classic Literature
Original/Reproduction: Original

---