Martin Amis Signed Numbered 1st The Information 1995 slipcased limited edition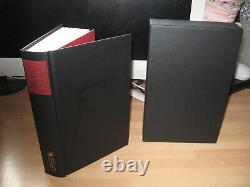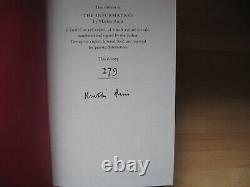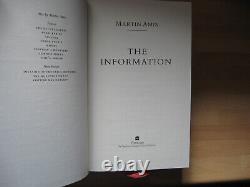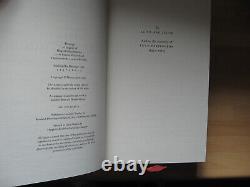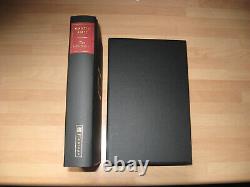 Martin Amis, who died on 19 May 2023 aged 73, was one of the most important and influential English post-war novelists, as well as being a short-story writer, screenwriter and prolific literary critic. He published 15 novels, starting with' The Rachel Papers' (1973), with the final one being' Inside Story' (2020). He was great friends with his contemporary authors Julian Barnes, Salman Rushdie, Ian McEwan and Kazuo Ishiguro. All featured in the first Granta Best Young British Novelists list, alongside others such as Pat Barker and Alan Hollinghurst.
These 6 authors all won the Booker Prize, with Ishiguro trumping them all by also being named Nobel Laureate in 2017. The author's father, Kingsley Amis, also famously won the Booker Prize in 1986. In contrast, Martin Amis would be considered by many as the best eligible British novelist never to have won the Booker Prize, and is probably the most under-represented novelist ever by the Booker judges. He had to wait until his 7th novel, 1991's' Time's Arrow' to first feature, when he made the shortlist and whilst a strong contender, lost out to Ben Okri. His only other Booker appearance was in 2003, when' Yellow Dog' made the longlist.
The Information', published by Flamingo in London in 1995, 1st edition/1st printing, large modern hardback, 494 pages. Flat hand signed by Martin Amis to a special limitation page. This copy is hand numbered as being copy 279 from the special limited-edition run of only 350 copies. There were a further 26 Lettered editions reserved for private distribution by the author. In fine unread condition, no ownership inscriptions.
Black cloth boards with an impressed keyboard design to the front board, lettered in gilt to the spine author & title within a burgundy label. The book is squarely and tightly bound with sharp corners. Housed in a black slipcase, which is in fine condition. An excellent and collectable signed limited-edition of the concluding part of an informal trilogy that featured 2 of his earlier key works. Multiple items - Please review my other listings to see if there are any other items which are of interest to you.
I will be regularly listing items for sale, please save me as one of your favourite sellers for the future, thanks.

---