Dave EGGERS / Original Art Signed 1st Edition 2000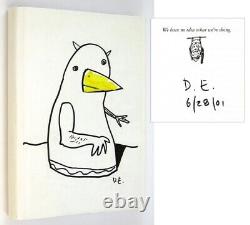 Author: EGGERS, Dave Title: Original Art Publication: McSweeney's, (2000). Near Fine / Near Fine.
A drawing by Eggers of a broken bird-like creature, executed on the previously blank dust jacket of Timothy McSweeney's Issue No. Additionally initialed by Eggers in 2001 and signed by Lydia Davis, Susan Minot, Ben Greenman, Lawrence Weschler, Paul LaFarge, Ann Cummins, and Sarah Vowell Issue No. 5 was the first hardcover issue of Timothy McSweeney's Quarterly Concern, and it was issued in three variant bindings and four variant dust jackets.
This is the Ted Koppel binding with the previously blank white front. One tiny corner tap, else fine in a very near fine dust jacket. Unless otherwise noted, our first editions are first printings. We deal in rare books, specializing in modern literary first editions. This listing was created by Bibliopolis.

---