CROW WAKES Ted Hughes SIGNED 1st/1st 1971 EXTREMELY RARE! SALE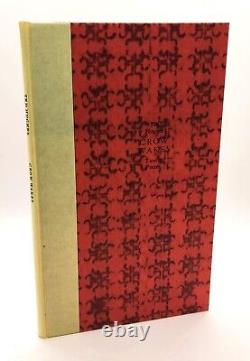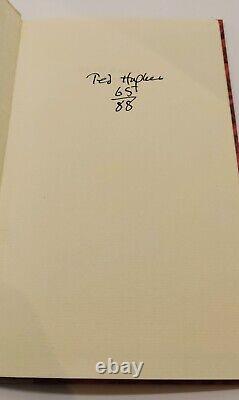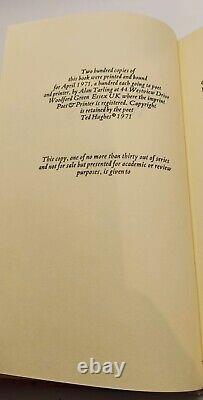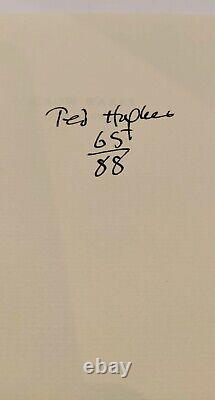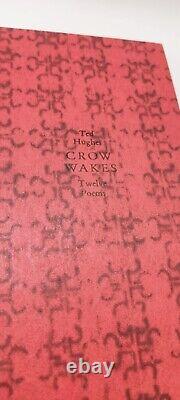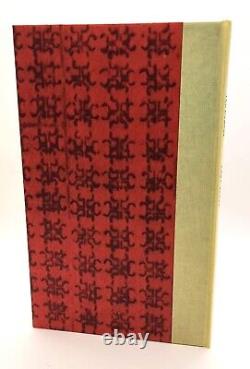 Bexhill Books Limited specialises in rare, collectible first editions of modern literature and non-fiction, primarily from the 20th century. All our books are handled with the utmost care and are described as accurately as possible. All book dust-jackets, where applicable, are protected in archival-quality cellophane, are are kept out of sunlight. Alan Tarling; Poet & Printer. A Fine edition of Ted Hughes's Crow Wakes, containing poetry that was not included in his seminal collection "Crow" for reasons unknown.
Extremely limited print run of only 200 copies, 100 of which he kept and 100 which he sent to the publishers and printers, plus an additional 30 which were meant for personal dedication to friends. This copy is from the author's own private collection. The dedication page reads "This copy, one of no more than thirty out of series and not for sale but presented for academic or review purposes, is given to" but has not been dedicated, making this extremely scarce. Alan Tarling of Poet & Printer told the poet's bibliographers, Keith Sagar and Stephen Tabor, in 1976, "these poems were excluded for personal reasons from Hughes's "Crow opus and he offered them to me in March 1970.
The printing and casing-in lasted until April 1971 when I began sending off copies. There were 200, a hundred each going to the poet (Ted Hughes) and printer (Mr Tarling) plus 30 review or academic copies.
Hughes obviously intended to number and sign all his 100 copies one was inscribed No. 100, and started doing so on p. [4], the title-page verso, below the limitation statement. However he later forgot this protocol, and numbered and signed 88 copies on the front free endpaper: thus, some copies are inscribed twice. This is an orthodox copy, inscribed only on the front free endpaper, but unorthodox in that it should have been an academic or review copy only, and never seen or made available to the'public'. Edward' Ted' James Hughes OM OBE FRSL (17 August 1930 - 28 October 1998) was an English poet, translator, and children's writer. Critics frequently rank him as one of the best poets of his generation and one of the twentieth century's greatest writers. He was appointed Poet Laureate in 1984 and held the office until his death. In 2008 The Times ranked Hughes fourth on its list of "The 50 greatest British writers since 1945". Hughes was married to American poet Sylvia Plath from 1956 until her death by suicide in 1963 at the age of 30. His last poetic work, Birthday Letters (1998), explored their relationship. Crow: From the Life and Songs of the Crow is a literary work by poet Ted Hughes, first published in 1970 by Faber and Faber, and one of Hughes' most important works. Writing for the Ted Hughes Society journal in 2012, Neil Roberts, Emeritus Professor of English Literature at the University of Sheffield, said. Crow holds a uniquely important place in Hughes [sic] oeuvre. It heralds the ambitious second phase of his work, lasting roughly from the late sixties to the late seventies, when he turned from direct engagement with the natural world to unified mythical narratives and sequences. It was his most controversial work: a stylistic experiment which abandoned many of the attractive features of his earlier work, and an ideological challenge to both Christianity and humanism. Hughes wrote Crow, mostly between 1966 and 1969, after a barren period following the death of Sylvia Plath. He looked back on the years of work on Crow as a time of imaginative freedom and creative energy, which he felt that he never subsequently recovered. He described Crow as his masterpiece... Crow is a collection of poems about the character Crow, which borrows extensively from many world mythologies, notably both trickster and Christian mythology. A central core group of poems in the work can be seen as an attack on Christianity. The first Crow poems were written in response to a request by American artist, Leonard Baskin, who had at the time produced several pen and ink drawings of crows. As new means that the book is in the state that it should have been in when it left the publisher. Fine (F or FN) is "as new" but allowing for the normal effects of time on an unused book that has been protected. A fine book shows no damage.
Very good (VG) describes a book that is worn but untorn. For many collectors this is the minimum acceptable condition for all but the rarest items. Any defects must be noted.
Good (G) describes the condition of an average used worn book that is complete. Fair shows wear and tear but all the text pages and illustrations or maps are present. It may lack endpapers, half-title, and even the title page.
All defects must be noted. If the damage renders the text illegible then the book is not even.
Ex-library copies must always be designated as such. No matter what the condition of the book. Book club copies must always be designated as such. Binding copy describes a book in which the pages or leaves are perfect, but the binding is very bad, loose, off, or non-existent. All our books are securely packaged using the most appropriate materials to ensure that your book arrives safely. We bubble-wrap all our books, and use acid-free tissue paper, along with other shredded-paper fillers; all housed in safe and secure cardboard boxes.
All books (or dustjackets of books) are wrapped in oil-free cellophane and handled carefully throughout the packaging and dispatch process. We welcome direct contact from our customers, and we are more than happy to send more pictures or videos of the items we have listed. We also welcome contact from customers who want to know more about us, or who are looking for a particular book where we may be able to help you find it.

---