Billy Connolly Tall Tales & Wee Stories / Windswept & Interesting Signed Edition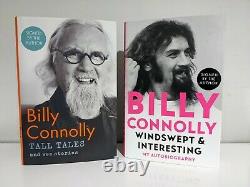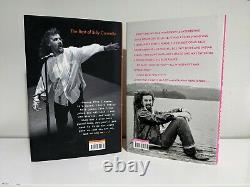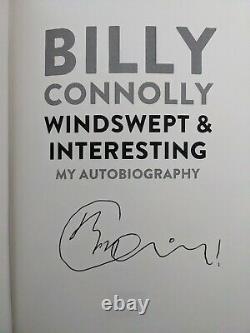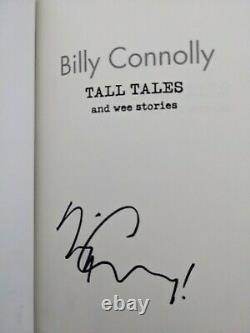 Billy Connolly Tall Tales & Wee Stories / Windswept & Interesting Signed. Billy Connolly Tall Tales & Wee Stories Signed Edition HB 1st Edition. Coming from Glasgow, it's weird, I don't really tell jokes, like Irish jokes and all that. And some of them don't even have punchlines.
But you'll get used to it as the night goes on, and on, and on, and on and on... In December 2018, after 50-years of belly-laughs, energy, outrage and enjoyment, Billy Connolly announced his retirement from stand-up comedy. It had been an extraordinary career. When he first started out in the late Sixties, Billy played the banjo in the folk clubs of Glasgow. Between songs, he would improvise a bit, telling anecdotes from the Clyde shipyard where he worked.
In the process, he made all kinds of discoveries about what audiences found funny, from his own exaggerated body movements to the power of speaking explicitly about sex. He began to understand the craft of great storytelling too. Soon the songs became shorter and the monologues longer, and Billy quickly became recognised as one of the most exciting comedians of his generation.
Billy's routines always felt spontaneous. He improvised, embellished and digressed as he went: a two-minute anecdote could become a 20-minute routine by the next night of a tour.
And he brought a beautiful sense of the absurd to his shows as he riffed on holidays, alcohol, the crucifixion, or naked bungee jumping. But Billy's comedy could be laced with anger too. He hated pretentiousness and called out hypocrisy where ever he saw it.
He loved to shock, and his startling appearance gave him license to say anything he damn well pleased about sex, politics or religion. It was only because he was so likeable that he got it away. Billy had the popular touch. His comedy spanned generations and different social tribes in a way that few others have ever managed. Tall Tales and Wee Stories brings together the very best of Billy's storytelling for the first time and includes his most famous routines including, The Last Supper, Jojoba Shampoo, Incontinence Pants and Shouting at Wildebeest.
With an introduction and original illustrations by Billy throughout, it is an inspirational, energetic and riotously funny read, and a fitting celebration of our greatest ever comedian. Billy Connolly Windswept & Interesting My Autobiography Signed Edition HB. I didn't know I was Windswept and Interesting until somebody told me. It was a friend who was startlingly exotic himself. He'd just come back from Kashmir and was all billowy shirt and Indian beads. I had long hair and a beard and was swishing around in electric blue flairs. He said: Look at you - all windswept and interesting! After that, I simply had to maintain my reputation... In his first full-length autobiography, comedy legend and national treasure Billy Connolly reveals the truth behind his windswept and interesting life.
Born in a tenement flat in Glasgow in 1942, orphaned by the age of 4, and a survivor of appalling abuse at the hands of his own family, Billy's life is a remarkable story of success against all the odds. Billy found his escape first as an apprentice welder in the shipyards of the River Clyde. Later he became a folk musician - a'rambling man' - with a genuine talent for playing the banjo.
But it was his ability to spin stories, tell jokes and hold an audience in the palm of his hand that truly set him apart. As a young comedian Billy broke all the rules. He was fearless and outspoken - willing to call out hypocrisy wherever he saw it. But his stand-up was full of warmth, humility and silliness too. His startling, hairy'glam-rock' stage appearance - wearing leotards, scissor suits and banana boots - only added to his appeal. It was an appearance on Michael Parkinson's chat show in 1975 - and one outrageous story in particular - that catapulted Billy from cult hero to national star. TV shows, documentaries, international fame and award-winning Hollywood movies followed. Billy's pitch-perfect stand-up comedy kept coming too - for over 50 years, in fact - until a double diagnosis of cancer and Parkinson's Disease brought his remarkable live performances to an end.
Since then he has continued making TV shows, creating extraordinary drawings... Windswept and Interesting is Billy's story in his own words.
It is joyfully funny - stuffed full of hard-earned wisdom as well as countless digressions on fishing, farting and the joys of dancing naked. It is an unforgettable, life-affirming story of a true comedy legend. Both Books by Billy Connolly signed by the Author. This item is in the category "Books, Comics & Magazines\Books". The seller is "coins4cash_uk" and is located in this country: GB.
This item can be shipped worldwide.
Character: Billy Connolly Comedian
Book Title: Windswept & Interesting: My Autobiography
Signed: Yes
Narrative Type: Non-Fiction
Publisher: Hodder & Stoughton
Intended Audience: Adults
Publication Year: 2021
Format: Hardcover
Language: English
Author: Billy Connolly
Features: 1st Edition, Dust Jacket
Genre: Biographies & True Stories
Topic: Autobiography, Comedies
Country/Region of Manufacture: United Kingdom
Unit Quantity: 2
Number of Pages: 400 Pages

---