Adam McLean / THE HYPNEROTOMACHIA OR DREAM OF POLIPHILUS Signed 1st Edition 1986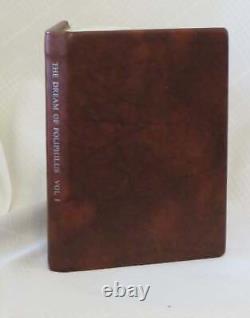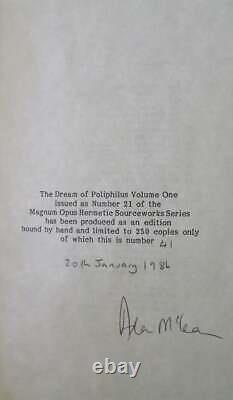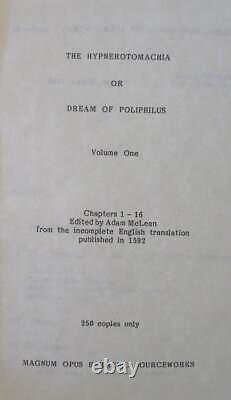 THE HYPNEROTOMACHIA OR DREAM OF POLIPHILUS. Author: McLean, Adam Title: THE HYPNEROTOMACHIA OR DREAM OF POLIPHILUS Publication: Edinburgh: Magnum Opus Source Works, 1986 Edition: First edition. Description: Edited by Adam McLean and signed and numbered by him; Limited edition of 250 copies; 155 pages; Bound in leatherette; We have seen copies printed on while paper with a different binding material, this appears to be a very early issue. The Dream of Poliphilus, the Hypnerotomachia, or'Strife of Love in a Dream' is an elaborate allegory written in the mid-15th century by Francesco Colonna, who is thought to have been a monk. The allegory is in the form of a dream journey undertaken by Poliphilus in his quest for his spiritual love Polia. The allegory is extremely elaborate, with detailed descriptions of symbols and architectural elements, but the underlying structure is simple enough and exhibits a transformation of the main character. This allegory was obviously written by someone adept in emblematic symbolism and had a profound influence upon the later emblem tradition.
It is illustrated by many famous woodcuts. The book became quite popular, paralleling in popularity Boccaccio's Decameron. We can detect in this work an archetype for later allegorical writings and in particular the'Chymical Wedding of Christian Rosenkreutz', with which it shares some points. In 1600 Beroalde de Verville wrote an alchemical commentary on this work in his Le Tableau des riches inventions.
Adam McLean provides an introduction and commentary on the allegorical process and the symbolism contained in this allegory. Since 1978 we have professionally offered rare, out-of-print and select new books with emphasis on the world's spiritual traditions, mysticism, philosophy and psychology. We entered this venture out of a love and appreciation for books. Additionally, every dust jacket on books we sell will be covered in a mylar jacket cover to keep it fresh and in excellent condition in your hands and on your shelf. While this is common in the rare book market, we also cover the jackets of new books we sell in mylar jacket covers. This listing was created by Bibliopolis.

---