Spider & Green Butterfly Voudon Grimoire E A Koetting/DePrince Dbl SIGNED Occult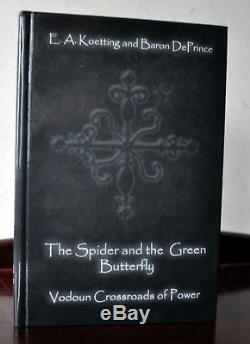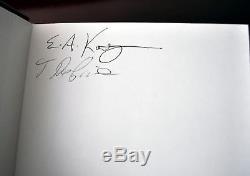 The Spider & The Green Butterfly. This text is perhaps the most dangerous to ever be put in print. Its rituals unlock doors that cannot be shut, its symbols and incantations conjure spirits that can never be exorcised, and the whole of your life and being will become a gateway between the worlds. Study this text, take notes, discuss it and dissect it, but unless you wish to be swept into the blackest ocean by the uncasing current of Vodoun, do not practice from this book, not once, not to see if it works or to use even a minor ritual for your benefit. The moment you do, this world will no longer be yours.
The Spider & the Green Butterfly. A very dark modern-day grimoire of black magick, evocation and sorcery, which teaches the dark magick practices of the Vodoun (or Voudon) current, as practiced in Haiti by the Cult of the Spider, and the Cult of the Green Butterfly.
If you dare to tread along this path, then through this book, Koetting & DePrince will teach you, the art of Vodoun: of crossing over, and working with powerful spirits and Loa; of consecration & preparation; of drawing veves; of the different strands and rites; of protecting yourself from enemies, and baneful influences; and of casting spells and curses, and making powerful concoctions. This book resulted from a manuscript, which was delivered by the Vodoun Priest Baron DePrince to Koetting, who was then given the task of working & deciphering it, and translating it, into a form that could be published, and used by others. Every chapter was sent to Haiti, to be reviewed by a counsel of Master Houngans, who preside over the network of clandestine Vodoun Societies.
This book contains rites & practices, which could be dangerous, & is not for novices, so beware! This book was limited to only 500 copies. I was able to secure a few copies of the dual-signed book, but had to agree not to list it for 1 year. The Spider & the Green Butterfly has been out of print now, for over 4 years, and is becoming very scarce, and sought-after. As this was the first book by Koetting, after he left Ixaxaar, it is not as well known as his earlier books: Kingdoms of Flame, Works of Darkness, Baneful Magic, and Evoking Eternity; but lately people have started to discover this interesting volume, and the change in direction that it reveals.
This copy is in mint condition, and will make an excellent addition to any occult library. Check out my other items. I also have a copy of Koetting's Kingdoms of Flame , Works of Darkness , Baneful Magick & Evoking Eternity , as well as a full 4 Volume Set of his Works , as well as his Dark Trilogy published by IXAXAAR , and one last consecrated copy of Liber Falxifer available - Don't miss out! Be sure to add me to your favourites list. As I will be listing many other Rare & hard-to-find books, artworks and many other items of interest.
The item "Spider & Green Butterfly Voudon Grimoire E A Koetting/DePrince Dbl SIGNED Occult" is in sale since Tuesday, June 3, 2014. This item is in the category "Books\Antiquarian & Collectible". The seller is "reix718" and is located in Belfield, NSW. This item can be shipped worldwide.
Binding: Hardcover
Subject: Religion & Spirituality
Topic: Occult
Special Attributes: 1st Edition
Origin: American
Year Printed: 2009
Printing Year: 2009
Author: E.

Koetting

Original/Facsimile: Original
Country/Region of Manufacture: United States
Language: English

---